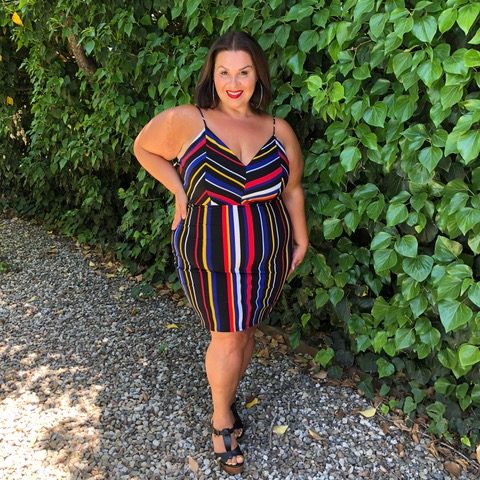 "My Mom nurtured and inspired my love for music". Whenever Deanna is asked where her love and passion for music came from, this will always be her answer. As a young girl Deanna would sneak down to the family basement, her hairbrush in hand and would note for note match the riffs and tones of Whitney, Patsy, Chaka and Barbara. The family basement led to recording studios and stages in the Boston area, where Deanna was born and raised.
One lucky day, Deanna was overheard singing by a staff member at Berklee College Of Music. She was on the spot, offered a scholarship to attend their 5-week Summer Program. By the end of it, wowed the institution into awarding her a full tuition scholarship to study. Deanna gratefully accepted.
During her time at Berklee she honed her singing, performing and songwriting skills. She landed her first national jingles, performed with/for prestigious artists like Diana Ross, Patti Labelle, Arif Mardin, Yolanda Adams, CeCe Winans and Pat Metheny and on a magical night at The Wang Center in Boston, she took the stage with Stevie Wonder. He played piano and she sang "Ribbon In The Sky". All she remembers is a standing ovation, hugging Stevie and not wanting to let go! The Boston Globe documented the whole thing and she was hometown sensation the next day!
Deanna graduated Berklee with a BA in Music Business and Management and a minor in Songwriting. She picked up her degree and moved to NYC. There she was met with more incredible opportunities as a vocalist for studio, live and jingle gigs. She landed a topping #3 Billboard Dance hit with "Higher", which she sang/co-wrote and was produced by legendary DJ and Grammy award winning producer, David Morales.
Deanna moved to LA where the passion and success flourished further. Her professionalism and talents led her to be called upon by greats like David Foster, Diane Warren and many other hit writers and producers for lead and background vocals.
In 2014, Deanna was a contestant on Season 8 of NBC's #1 rated show, "America's Got Talent", hosted by Nick Cannon with Celeb Judges: Howard Stern, Mel B., Howie Mandel and Heidi Klum, Deanna made it to the live, quarter semi final rounds at Radio City Music Hall in NYC with a TV audience of 10 million. That same year she was cast as the lead singer/dancer/actress for the next 2 years of BIG LOTS holiday commercials.
Deanna has sung background vocals for Dirty Heads (All I Need), Daniel Skye (Smile), Nick Jonas (Chainsaw), Celine Dion (Unfinished Songs), Lea Michele (Louder), Justin Bieber  (Believe & Pray), Havana Brown (One Way Trip), Paula Abdul (Dream Medley, Check Yourself & Pre-recorded performance vocals) & Cassie.
Her singing and songwriting can be heard in over 100 Film, TV & Ad placements like: "Apple", "Betrayal", "Sex and the City", "General Hospital", and "America's Funniest Home Videos", to name a few.  As a vocalist, Deanna's commercial resume includes national campaign spots for Big Lots, Dos Equis, State Farm, Nabisco, Proctor & Gamble, Mattel and Siemens Technologies, to name just a handful.
Deanna's songwriting credits include: Red Velvet "Dumb Dumb", Quincy Featuring French Montana "Friends First", Sophia Grace "Girls Just Gotta Have Fun", Charlie Wilson "Life Of The Party", Cody Simpson "Guitar Cry", Cassie "Sound Of Love", Mya "Alive" & "Fabulous Life", Justice Crew "Sexy & You Know It",  Bret Ryan "She's Beautiful", Three Graces "A Man Like My Father", plus!
Deanna released her first single "I Am A Masterpiece", a self love and appreciation anthem. In 2018, alongside her co-host Carmen Rene, Deanna launched a weekly talk show on LA Talk Radio called "The Plus Size Divas". The show is another of Deanna's passions: self love, acceptance and empowerment. The show is a body positivity and acceptance platforms, encouraging others to love themselves wholly. Season 2 premiered in June 2019 on Facebook Live.
In 2019 Deanna added "Amazing Cook" to her long list of talents by auditioning for Fox's MasterChef Season 10 and cooking for Judges: Chef Gordon Ramsey, Chef Aaron Sanchez and Restauranteur Joe Bastianich. She wowed them into giving her a coveted white apron and making history as a Top 20 contestant on the show. 
Gratefully blessed with talents in singing, songwriting, vocal production, acting, voice over and vocal coaching … Deanna is LIMITLESS!